Undersecretary Marco Minniti, superseeding the Italian Intelligence activities on behalf of the Government, gave out his two cents about the war on terrorism – the Italian Way, announcing a private-public project to fight cyberterrorism and claiming that Europe hosts the Légion étrangère of Terror.
Here is the screen-shot of his statement: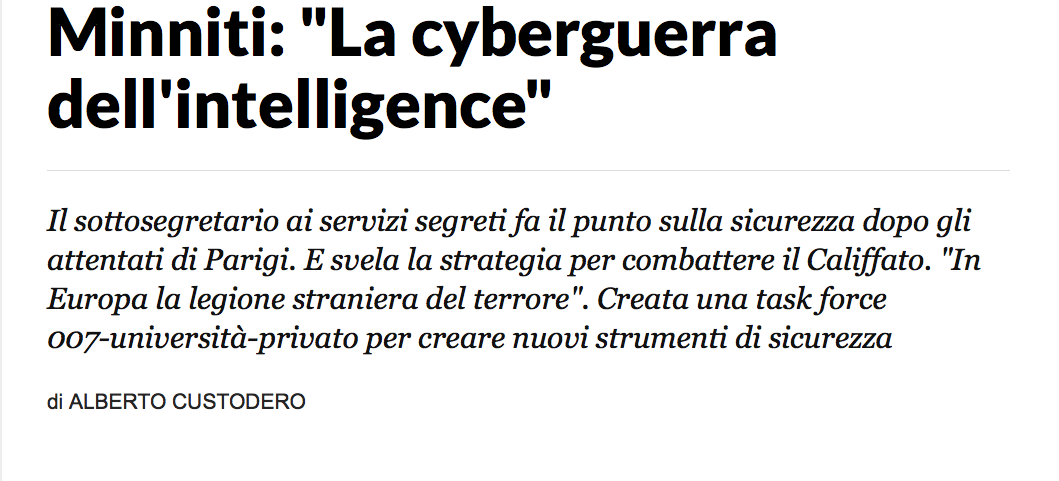 Well, I don't want to talk about the merit of the cyberterrorism response of his announcement. It is too early to actually assess a proposal that ranges from catastrophically ineffective to functional.
Let's wait and see, but in the meantime I've found grossly misinformed and misleading the association Mr. Minniti  did between the terrorist forces and the French Légion étrangère. It is a fact that people from many different countries are joining the terrorist camp, but in no way this can be compared to what (like it or not) the Légion is.
What I find rather disappointing is that to obtain a rhetorical stunt in front of the Press, a politician that is supposed to know better just let slip easy and wrong messages. I can imagine a newspaper's title when the next attack will strike: "Terror Foreign Legion vs France's Foreign Legion!" Awful sounding isn't it?
This is what happened so far with the word "Kamikaze" whose meaning has been turned upside down by the Italian media.
Kamikaze was (and still is) the name for a desperate military tactic (BTW, not so different from the one Winston Churchill thought of fighting German panzers in case of invasion of the British soil) conceived by an army against another army, and has nothing to do with the exploitation of an individual as human bomb carrier targeting people with non combatants status.
Words'meaning grip loss leads to confused ideas, and cloudy thoughts produce wrong decision.