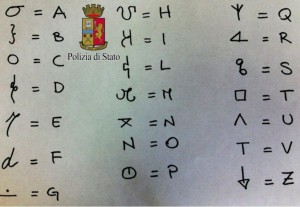 This is – the news is as recent as today – what the Italian Polizia di Stato found during a Ndrangheta (organized crime from Calabria) related investigation.
Although the cipher, in this case, is not that hard to handle for an expert codebreaker it shows that "old school" systems still work.
So, following the announced ban of side-to-side encryption application made by US Presidente Obama and UK Prime Minister Cameron (coupled with the statement by Italian Home Affair Ministry) I wonder how they're going to fight this "new", dangerous way to exploit the encryption.
Maybe outlawing paper and pencil?